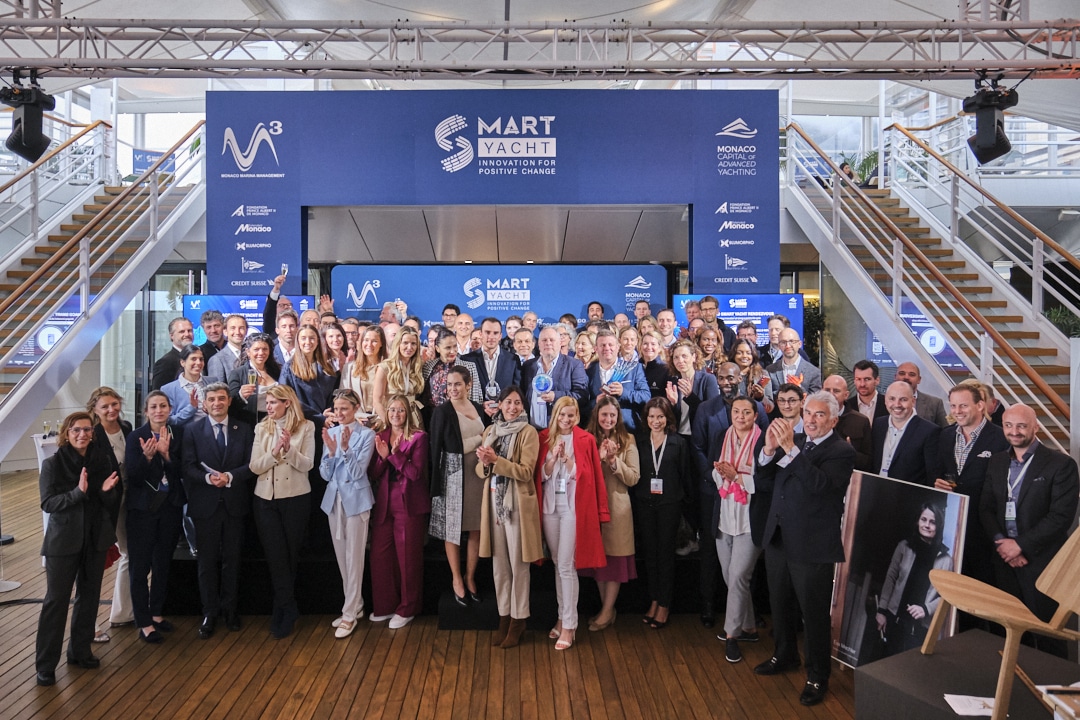 Concrete solutions for sustainable yachting
During the 6th Monaco Ocean Week, supported by the Prince Albert II of Monaco Foundation, Monaco Marina Management (M3), a Monegasque company specialised in sustainable yachting, organised the 1st Monaco Smart Yacht Rendezvous at the Yacht Club de Monaco. HSH Prince Albert II came to kick off proceedings and meet the startups, scaleups and corporates there to present innovative solutions that can be adapted to superyachts.
Supported by the Prince Albert II Foundation, Credit Suisse and the MB92 Group shipyard, this event stands out for gathering the whole yachting ecosystem including major shipyards such as Sanlorenzo, Feadship, Oceanco and Lürssen, and designers like Dan Lenard and Espen Oeino, there to testify on how they are contributing to a transformation taking place in yachting. "The presence of so many major players shows their desire to provide a collective response to climate issues and encourage responsible innovation," said José Marco Casellini, CEO of M3 (Monaco Marina Management).
The meeting's originality and legitimacy rests on bringing the whole ecosystem together with an exhibition area where participants could discuss, share and present their solutions. There were also discussion panels and round tables such as the presentation by the MB92 Group of its third environmental report entitled "A collective effort for the oceans".
Yacht: a life cycle under the microscope
Following the logic of always pushing the limits of design that is a feature of the superyacht market, builders need to rethink yachts to be sustainable and limit their impact on the planet. Faced with the emergence of eco-concerns, many yacht builders have been developing R&D expertise for tomorrow's yachts. Yachting's share of maritime transport's greenhouse gas emissions is minimal, as Massimo Perotti, Sanlorenzo CEO, pointed out: "Shipping represents 1.7% of global emissions and yachting's share is equivalent to 0.22% of that figure".
For this first edition, the whole life cycle of a yacht was unpicked from R&D to its usage, maintenance and evolution. New propulsion solutions, choosing more eco-friendly materials, optimising energy use, water management, connectivity and safety were among topics discussed, a focus being to institute optimal operational conditions to prolong the yacht's life cycle. With ecological awareness growing at the same rate as the urgency to act now, customer requests are tending towards new modes of propulsion. As a result, shipyards and engine manufacturers are investing in R&D of new green technologies. "We've noticed a sharp uptick in environmental awareness by the main protagonists, now it's up to us to offer suitable solutions to back this commitment. We have to change fast and find many solutions. But it is essential to maintain this positive energy for owners and encourage them to be passionate about the oceans," said Bernard d'Alessandri, YCM General Secretary.
Olivier Wenden, Vice President and CEO of the Prince Albert II of Monaco Foundation: "YCM is taking the lead in sustainable yachting and doing a phenomenal job of hosting an event like this one. I would like to pay tribute to its involvement in promoting the environmental transition to the superyacht community".
Ultimate objective: green yachting
A general observation by constructors is the growing demand from clients for green technologies, a mentality shift that will have an undeniable impact on ecosystems. "Our goal is to switch from hybrid diesel to methanol in under ten years with in particular a flexible modular engine room in terms of fuels – to be ready for the future energy transition with the possibility of being carbon neutral in 2030," said Bram Jongepier, Senior Specialist, Studio De Voogt, Feadship. The superyacht industry is therefore being encouraged and forced to turn to more eco-friendly technologies to ensure its future, the sustainability of which depends on green actions. There is talk again now of refits. With green yachting asserting itself as the future, owners have to choose between becoming owner of a sustainable yacht or to renovate the one they have. A move that is now inevitable, as in five to ten years some regions, particularly coastal regions, will no longer be accessible to diesel powered vessels.
A unique selection process to foster synergies
In fact, discussions had already started before the event with 181 one-on-one interviews between 44 Jury members and 50 startups, scaleups and corporates from 24 nations selected by the team from Blumorpho, innovation for a sustainable economy experts, headed by Géraldine A. Gustin.
The quality of projects presented, particularly in the Startups category, was evident in the closeness of the votes during the deliberations. The Italians from Northern Light Composites (Nlcomp) won the Smart Innovative Yacht Award in this category for a recyclable composite that solves fibreglass end-of-life issues. "We are an innovative startup which developed R-Composite, a durable composite that guarantees end-of-life recyclability. R-Composite is the ideal candidate to replace the fibreglass composite, which is not easily recycled, resulting in the blades of boats (and wind turbines) being buried. With R-Composite, we are creating a fully circular economy," explained Fabio Biglolini, CEO of Northern Light Composites.
In the Scaleups category, the British Lineat Composites topped the votes with their process to turn carbon fibre waste into carbon fibre tape, reintroducing it into the supply chain as a technical product. Gary Owen, CEO of Lineat Composites: "Winning this prestigious award means so much to the team. It's an opportunity to demonstrate the truly unique properties of Lineat recycled carbon fibre. We have created a new material that can be incorporated into many products in maritime sectors including yachting, but also the automobile, aerospace and sports sectors".
Marc Hervás, Sustainability Coordinator of the MB92 Group: "With Lineat Composites and Nlcomp, winners of this event in their respective categories, the Jury has highlighted the importance of the circular economy in industry. Carbon fibre end-of-life has been a major problem for years in the nautical sector, and having a solution could be a game changer".
Finally, in the Corporate category, French company Wisamo took the prize with its inflatable, retractable and automated wing for merchant ships and pleasure boats, an innovative solution that comes into its own in a fast changing climate. The system envisages a fuel saving of 20%. According to the engineers who designed it, it can be adapted to ro-ro vessels, bulk carriers, and gas and oil tankers, the wing either being installed at the design stage or retrofitted. Fabien Monin, Business Development at Wisamo said: "We are very honoured that shipping and yachting professionals appreciate our Wisamo wind propulsion innovation. We intend to contribute to decarbonising yachting and maritime transport in general".
With its vision to promote innovative solutions and get the whole yachting ecosystem interacting, from yachts to the infrastructures that accommodate them, Monaco Marina Management invites all professionals to the 3rd Monaco Smart & Sustainable Marina Rendezvous (24-25 September 2023). All these events are part of the collective Monaco, Capital of Advanced Yachting approach, the ambition of which is to position the Principality as a centre of excellence in this sector.
Official website: www.monacosmartyacht.com | Press contact: smartyachting@monacomarinamanagement.com